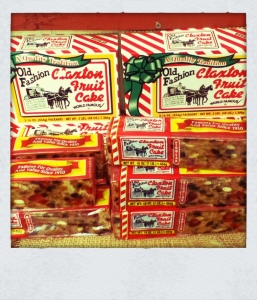 Down the road from here, a shop selling Christmas trees presents a sign to the passers-by announcing, "Have a real Christmas. Buy a real tree."
This concerns me.
If a true Christmas means having a real tree, then every Christmas I celebrated as a child was a fake. And I'm not the only kid whose parents decorated a fake tree. My friends did, too.
While having a real tree was something I longed for, it was not a part of our family tradition. Our tradition involved pulling the battered tree box out of the attic, matching color-coded limbs, and assembling a very dignified looking artificial fir tree that smelled nothing like pine. In the end, when you stood outside and gazed in from the cold winter evening, our tree looked just as real as any other.
 It is tradition that makes Christmas real.
As a chef, there is a question that haunts my every culinary endeavor. What is MY culinary tradition? On the glossy pages of magazines, everyone seems to have a traditional family cuisine. Just last month, a chef traveled back to Vietnam in order to learn authentic Vietnamese dishes from their great grandmother. It is the kind of story that makes my mother's grilled cheese sandwich appear paltry and taste flavorless.
But flavorless they are not. They are delicious.
For me, they are part of my family's culinary heritage, my family's culinary tradition. This holiday season, my family will make the same cookies and desserts they have made every year I can remember. This is also part of my culinary tradition—even though the recipes were collected from chocolate chip bags and cans of sweetened condensed milk. Last year I created a new holiday cookie by altering an older recipe. Because of popular demand, I will make them again this year.
The joy of the season is made real, again, every time I eat one.
Tradition is repetition. From Christmas trees to holiday cookies, it is all layers upon layers of memories being born again each and every year…
From all of us here at Wolff's, we would like to thank you for letting us be a part of your culinary tradition, and wish you a very merry (and delicious) holiday season!