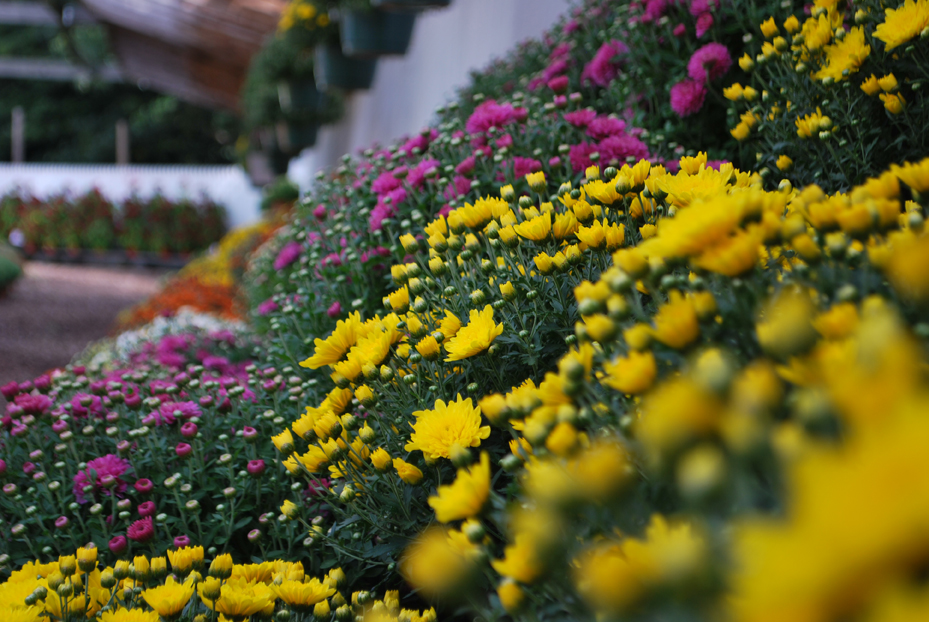 If you've spent much time with the Wolff family, one thing is pretty clear: they intimately know the products they sell, and they put a lot of effort into making sure their customers know as much about their products as possible.
After a conversation with Peter Wolff, who runs the garden center, I am reminded of this fact.  "We have about 35-40 varieties of mums right now in a range of at least 10 colors," Pete explained.
I'm always blown away by just how many variations exist of some of the most ordinary things – even strawberries, peaches and plums. The diverse variety available, and their staff's wealth of knowledge about this variety, is what makes shopping at a farm market like Wolff's so unique.
The garden center is in full bloom now with mums in all shapes, sizes, colors and varieties. Although mums have been in the market since August, this is the heart of their season, and the season will continue until Thanksgiving. "You typically have about 4-8 weeks from the time the mums bloom for them to flower each season," Pete continued. "They are perennials, so with the proper care they should return next year."
And just how should you care for your mums?
While they are still blooming:
Water them according to the weather, as you normally would for most plants
Don't allow them to dry out
Once they have finished blooming:
Trim them down 2-3 inches
Mums will have the best chance of coming back the next year if they are planted in the ground so that the roots can to make it into the soil
Once in the ground, surround them with a bed of mulch to help protect them from rapid changes in temperature
If you plan to leave them in a container, be sure to pinch off all of the blossoms. The flowers may come back the next year, but they will have a better chance of survival if they are in the ground.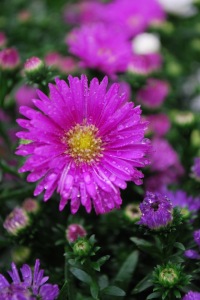 Asters, a type of very hardy mum will come back year after year without much cultivation.They typically only bloom for about 4 weeks, but many people find that their resilience year-to-year is worth the shorter bloom period. These flowers, along with daisy-faced mums are a favorite plant of pollinating insects. So if a pollinator-friendly garden is what you are going for, asters are an excellent pick.
To me, mums really signify that fall is here. They are full of brilliant fall colors and flourish beautifully just as other summer plants are on their way out.  This fall as you plant your mums, consider planting a 3-season garden with decorative cabbage and kale, and even some pansies that will poke up when the warmer weather of springtime arrives.
Pete takes pride in hand-selecting the mums from a few trusted local growers, ensuring that the plants are healthy and well-shaped. The Wolff family applies this standard to all of the products they carry so that their customers always know exactly what they are getting and who it is coming from.
While shopping at Wolff's this fall, be sure to check out their huge selection of pumpkins, gourds, Indian corn, straw bales and corn shocks and  don't hesitate to ask their friendly staff if you have any questions.