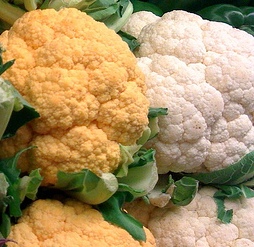 At this time of day, the palest shade of yellow becomes white. It is a white like ivory or the cooked white of an egg. It is the glorious flesh or white curd of the aborted floral meristems. It is the white of cauliflower, the white of the species Brassica oleracea.
And to eat this plant is to eat a delicacy once embraced by kings. To roast it in a dry oven will render its outer layers golden and crispy and its inner parts tender and slightly creamy. To steam or boil it will produce something entirely different. When blanched, the cauliflower surrenders its crispness and becomes tender enough to mash with a spoon.
Though you may eat it raw, this method of preparation results in a less bitter or astringent flavor. I prefer cooked cauliflower over raw. While boiling reduces the levels of beneficial phytochemicals linked to protection against cancer, steaming has no effect on these compounds.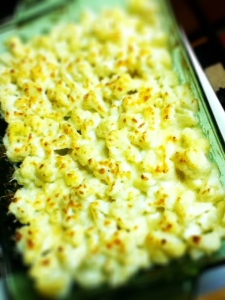 Wolff's cauliflower are grown by Steve Rossazza, and they are available in many varieties and colors including orange, green, and purple. Last night, I brought one home. It was of the white variety.
After pulling off the green outer leaves, I carved off the white curd and steamed it. After making a bechamel seasoned with fresh nutmeg, I tossed the whole mess (cauliflower and bechamel) into a baking dish, covered it with freshly grated Parmesan Reggiano, and placed it beneath the broiler until golden. This is called cauliflower gratin.
Gratin is a french word referring to something topped with a browned crust. In this case, the cheese forms the crust, the outer shell. Inside? Only the softed flesh.
The delectable meat.
The tenderest part…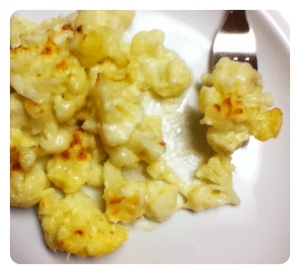 Print
CAULIFLOWER GRATIN
Author:
Category:

Side Dish
1

medium to large head of cauliflower

2 1/4 cups

bechamel

2 oz

. freshly grated Parmesan
Instructions
Butter shallow 12×9 inch baking dish.
Steam cauliflower until tender (not mushy)
Prepare Bechamel. In a thick bottomed sauce pan, melt 3 tbsp. butter. Once butter is melted add 3 mounded tbsp. of white flour and whisk into paste or loose batter. This is the roux. After cooking the roux for a few minutes, add 2 cups whole milk, 1/8 tsp. of freshly grated nutmeg, 1/4 tsp. salt, and a dash of pepper. Whisk until sauce becomes thick and coats the back of a spoon.
In a bowl, toss steamed cauliflower and all of the Bechamel. Pour into prepared baking dish.
Sprinkle with cheese and place beneath a broiler for approximately 10 minutes (or until a golden crust forms)
Let cool before serving.