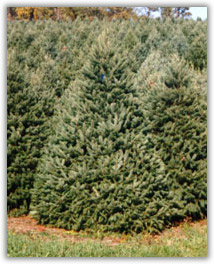 Picture the perfect Christmas tree. What does it look like? Or better yet, what does it smell like?
I've learned over the years that the saying "beauty is in the eye of the beholder" couldn't be more true when it comes to Christmas trees.
When I was growing up, our neighbor owned an abandoned Christmas tree farm and let my family have our pick of any of the trees in the field. It worked out great for the first few years while the trees were still young, but over the years the trees grew bigger and bigger and their branches got more and more unruly. Many of the trees stood very tall, but only had a few sparse branches at the bottom, so they didn't seem so tall from where we were standing. We had a cathedral ceiling in our living room, so we felt like we could pick out any tree in the field, no matter how big it was!
Most of the time, we didn't mind having to work around our trees' imperfections. There was the year the tree was so prickly that my dad and brother had to wear thick jackets, leather gloves and safety glasses to handle it! Some years the tree stood over 9 feet tall! Most years the tree had some giant bare spot we had to patch up with lots of lights and ornaments. One year I remember our tree truly being a Charley Brown tree with just a few sparse branches. Our friends thought it was pretty funny, but we didn't mind.
In college, my roommates and I all pitched in to get a tree for our living room. I agreed to pick out the tree with one of my roommates, so we headed to a local greenhouse in her Jeep. To my surprise, she didn't go around looking at all the trees, but rather, smelling all of them! I have to say, that year we did have a very aromatic tree and our house smelled delightfully like Christmas.
The first year my husband and I were married, we were on a pretty tight budget, so we had to look around for a tree that would fit our budget. We finally found one in our price range at a place called "The Cheapo Depot" – no lie! A few days after our tree was up, we noticed that it seemed to be drinking a lot of water. We thought this was pretty normal until we noticed that our carpet was completely soaked! Somewhere along the line, our cheapo Christmas tree stand had sprung a leak. Needless to say, we had some cleaning up to do and learned a few things about caring for a Christmas tree. My husband and I now place a little more value on the quality and care of our tree than we had before!
The Wolff family has years of experience caring for Christmas trees, and shares much of their expertise on their website and in person. They have three varieties of beautifully shaped, aromatic trees, including Douglas Fir, Fraser Fir and Concolor Fir.
Here's what they say about these three varieties:
Douglas Firs have the classic Christmas tree shape and aroma and offer an excellent value.
Fraser Firs, our premier trees, are renowned for their aroma, fullness, needle retention and strong branches that support heavier ornaments. (Also my personal favorite tree!)
Concolor Firs, with their beautiful long-needle shape and pleasant citrus aroma, offer a unique variation on the traditional tree.
The Wolffs also have a special recipe "preserving mixture" that they give out free to all customers who purchase their trees at Wolffs. The Wolff family and their staff always strive to know the products they are selling very well, and are happy to give advice on finding your perfect tree. Learn more about selecting the perfect Christmas tree at Wolff's on their Holiday Planning page on their website. Also, don't forget to pick up your FREE cup of hot apple cider when you come to get your Christmas tree!