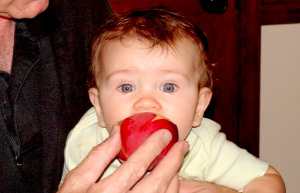 Edward Behr, author of The Artful Eater, believes that the best apple you will ever eat is a stolen one. In my case, the best peach I have ever eaten was stolen from a neighbor's fruit tree on a hot July evening in 1992. So fragrant and sweet, it tasted like…like…sunshine, like youthfulness, like summer. It remains, to this day, one of the finest culinary moments in my life. That peach tasted the way a peach should taste. And that is the sort of peach Wolff's wants to sell you.
Front and center, splayed out in all their glory, Wolff's peaches welcome you to the store. They beckon you to pick them up and hold their slightly firm, slightly tender forms in the palm of your hand. Just try not to buy one.
With such delicious peaches available to me, I wanted to create a salsa that remains loyal to the fruit's natural sweetness but elevates the customer's curiosity and interest in the peach by introducing zest, spice, and savory components. Andrew Dornenburg, author of Culinary Artistry, includes ginger as an ingredient that pairs well with peaches. With this in mind, I created a salsa that incorporates fresh grated ginger for a blast of unexpected heat. The result, I feel, is a salsa that is rich with layers of subtle and unanticipated flavors while not overpowering the desired peach taste.
As a seasonal item, the salsa is only great when it includes great peaches. As Fran Wolff likes to say, "The proof is in the pudding." Or rather, in this case, the proof is in the peaches.