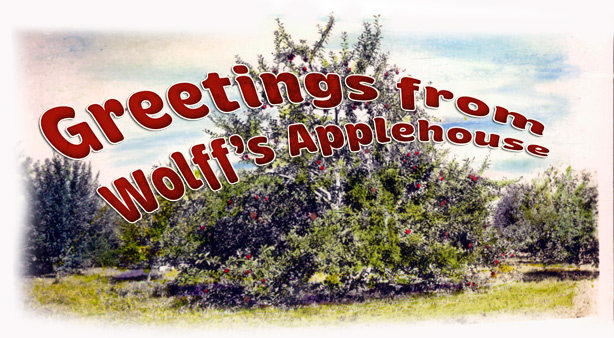 If you've visited wolfsapplehouse.com in the past, no doubt you've noticed our new look!  On July 15, 2011 we launched our new website, which reflects the authentic beauty of our century old store, makes it easy to find quality information about our products and vendors and in-season fruits, vegetables, food and plants.  It brings the best of what our customers love about Wolff's Apple House to the web! The website was revamped by web design company Both/And Creative in cooperation with our staff from the local marketing agency VanDuzer Design & Marketing.
Our new website makes it even easier to shop locally and shop in season at Wolff's Apple House.  Click on the "What's in Season" tab (on the navigation bar) for a list of all the produce we plan to carry each month.  Our "In Store" tab gives you a menu of all the areas of our store.  These in-store pages let you:
See our prepared foods menu and read about our chef, Chuck Smith;
Find out about the bakery items we carry and read about our local bakers;
Discover the wealth of natural grocery items we stock;
Learn about the many local farms that bring their cheese, milk and eggs to our shelves;
Explore the local and global items we sell at our gift shop!
For even more up-to-date information on what has just arrived on our shelves, check our blog frequently.  We'll post information about the produce we hand-select daily, the exciting new local products we offer and the local plants that arrive frequently in our plant and garden center.  Our blog is your online point-of-entry into Wolff's Apple House.  It not only keeps you up to date on what's new and exciting around the farm market, it lets you ask our experts questions. Search the blog year-round to see articles about when different products become available, tips on preparing meals for every holiday and much more.
Stay tuned for additional features launching in August, including a database of Wolff's Apple House recipes as well as the ability to post your very own recipes! We'll also have a photo gallery of photos of our market new and old to browse through.
We are excited that Wolff's Apple House keeps expanding and serving the Delaware Valley in new ways—from its beginnings as a roadside produce stand to its currently flourishing farm market—and we look forward to the new ways this website will serve you!