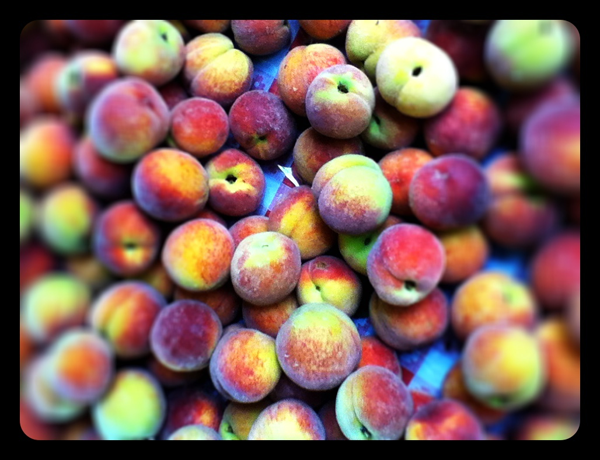 It's peach season right now at Wolff's Apple House!  Beginning in early July, our store manager, Brian Bednarz, begins to hand-select the best New Jersey peaches available from local farms.  New Jersey is famous for its peach orchards, and since it's warmer earlier there, the earliest peaches you'll find in our produce bins come from New Jersey.  Within a few weeks, we begin to add peaches from nearby Pennsylvania farms.  Right now, the warmer weather in PA means that we have begun sourcing peaches from both Pennsylvania and New Jersey!
Peach season lasts from early July to mid-September, so peaches are definitely a taste to enjoy all summer long.  Peaches are ripe and delicious for eating right now, and freestone peaches—peaches that have separated from the pit and are better for canning—become available in late July or early August.
Around Wolff's Apple House, peach season means that two exciting new products appear in the store.  Our chef, Chuck Smith, reintroduces the fabulous peach salsa he makes from the fresh, local peaches here at Wolff's, and My House Cookies stocks our bakery with their delicious peach pies made from the same Jersey peaches found at Wolff's! Click here to read more about these tasty, summertime treats.
Local peach salsa comes but once a year at Wolff's Apple House—it's become a part of our summer menu that we look forward to as a sign that summer is in full-swing.  Our chef has worked carefully to craft a menu chock-full of all the local, in-season produce that comes to Wolff's Apple House daily.
It's rare that chefs work alongside their suppliers, but Chuck Smith has sought out situations like this.  For several years, he volunteered at an organic farm in Maryland.  Shortly after that, he managed a cooperative deli in Belfast, Maine that used almost exclusively local ingredients.  Smith says, "Here at Wolff's, I have a pretty ideal scenario…. My food has a direct and immediate relationship with the raw ingredients a customer will find all throughout the store."  Wolff's juicy, sweet and tangy salsa is one of Smith's specialties that is fresh and available when local peaches are! Peach pies from My House Cookies are another sign of summer here at Wolff's.  These pies also use local peaches from our farm market.  Marie Connell at My House Cookies bakes our pies with fresh, in-season ingredients and real butter.  Delicious!  My House is only few towns over from Wolff's, and we love selling Marie's pies as much as she loves using our hand-selected local produce.  Her blueberry pie, which is also in our bakery right now, uses blueberries Wolff's sourced from nearby New Jersey farms.  In the fall, she uses Wolff's apples to make her apple pie, and then freezes local apples so she can keep the apple pies coming all winter long and into the spring.  Twice a week, this bakery delivers fresh pies to our market.
Even though we're heartily celebrating peach season, our peaches are only one type of fresh, local fruit that is available right now at Wolff's.  What other produce is new and local this month?  The local fruit selection includes blueberries, sugar plums, cantaloupes, and two types of summer apples—early gold and vista bella. We'll soon have local blackberries and sugar baby watermelons. Our market is overflowing with fresh local veggies, including green peppers,jalapenos, organic garlic, organic salad greens, broccoli, basil, mushrooms, root vegetables, summer squash and tomatoes.  We also have some new plants in the store—fresh cut Zinnias and Lisianthus.
Stop by and find a feast of peaches and other local fruit at Wolff's.  We will be sampling our salsa this weekend!  Come try some!