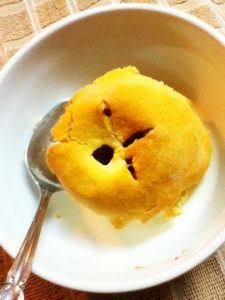 Any way you look at it, a farm is a business–a livelihood for those interested in growing large quantities of food to sell. But the business of farming varies greatly. In many cases food is grown because it is profitable.
People need food. It's as simple as that.
Once in while however, a farmer grows something because he or she thinks it tastes really, really delicious.
Frank Wolff (grandfather of Peter and Fran Wolff) who started Wolff's orchard back in 1910 loved Stayman Winesap apples. He, consequently, grew lots and lots of them. For this reason, they have been a staple at Wolff's Apple House ever since.
I tried one of these apples for the first time last year. They had just arrived at the store and everyone was buzzing with excitement. As I closed in on the large wooden crate full of rotund burgundy skinned apples, a sweet and earthy aroma wafted toward me.
Cutting one open, I was pleased to smell hints of honey. The firm yellow flesh had a crisp and course texture. It was sweet and tart with a complex richness that was very much wine like. It is a delightful apple and very good for snacking.
Because the Stayman-Winesap is late maturing, and grows very well in the warmer climate of the Delaware Valley, it has a strong local following. I learned this while struggling to keep the display well stocked last fall. The people around here know and love this apple. And they know the best place to get it.
One reason I wanted to cook for Wolff's Apple House is because it is so rich in culinary history. The Wolffs love this apple, and you can see this in their presentation and their dedication to keeping the shelves chock full of them.
The Stayman-Winesap is so appropriately fall tasting that it brings to mind the image of warm woolen scarves, hot mulled cider, and the earthiness of newly fallen leaves.
There was a dessert we enjoyed when I was little. My mother made it every fall. It is the dessert that I associate with this time of year. It seemed a perfect showcase for all the qualities this apple had to offer. A marriage of flavors that makes one consider finding a pile of leaves somewhere and diving in head first…
Print
APPLES PANDOWDY!
This recipe makes 6 servings and can be served in a dish with a splash of cold milk.
Author:
Category:

Dessert
6

apples, pared and cored

2 tbsp

water

1/3 cup

sugar

1 tsp

. cinnamon

1 cup

Bisquick baking mix

1 tbsp

butter or margarine, melted

1/4 cup

milk
Instructions
Heat oven to 425 degrees
Place apples close together in greased 9x9x2 inch dish. Sprinkle with water, 1/3 cup sugar and the cinnamon. Heat in oven 20 minutes while preparing topping.
Stir remaining ingredients to a soft dough. Gently smooth dough into ball on floured cloth-covered board. Knead 8 to 10 times.
Roll dough into a square that will fit over the hot apples. Cut a small crisscross in dough on top of each apple.
Bake 20 to 25 minutes.