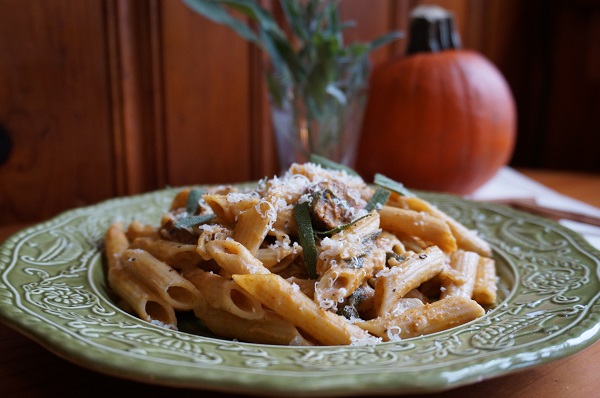 Autumn collects synonyms.  It's already the only season with two interchangeable names, and from there, its monikers multiply.  It's also known as pumpkin season, apple season, cider season and more.  But how long has autumn been known as the season for all kinds of pumpkin-spiced food and beverages, from pumpkin lattes to pumpkin ravioli to pumpkin ales and more?  Do we owe it to Starbucks, which first introduced its pumpkin spice latte 11 years ago?
Actually, Starbucks can't take credit for this one.  Pumpkins have been part of the cuisine in North America for thousands of years.  To the first European explorers who arrived in North America, pumpkins must have looked as abundant and diverse as they do around Wolff's right now!  It's hard to find a European explorer who didn't mention pumpkins in one writing or another.  And archeological sites in North America and Central America have unearthed evidence of pumpkin seeds that dates back thousands of years!
Pumpkins flourished, and most Native Americans ate either the seeds (mmm… roasted pumpkin seeds!) or created "pumpkin jerky."  Swedish botanist Peter Kalm, who roamed the northeast in the mid-1700s, observed the process of making pumpkin jerky:
The Indians, in order to preserve the pumpkins for a very long time, cut them in long slices which they fasten or twist together and dry either in the sun or by the fire in a room. When they are thus dried, they will keep for years, and when boiled they taste very well. The Indians prepare them thus at home and on their journeys.
If this sounds delicious to you, try this recipe for Pumpkin Jerky!  But perhaps something else this Swedish botanist observed sounds sweeter.  He noticed that some Native Americans "mix flour with the pumpkins when making porridge… They often make pudding or even pie or a kind of tart out of them."  Now that sounds like an autumn delicacy!
As European settlers came to North America, they learned to use this native plant. In an article in the Colonial Williamsburg Journal, Mary Miley Theobald cites a Pilgrim's poem from 1630 to show how important pumpkins had become to the continent's newbies:
We have pumpkins at morning and pumpkins at noon,
If it were not for pumpkins we should be undoon.
And, it turns out, pumpkin ale is not a new innovation that has gained popularity along with hip microbreweries.  The Pilgrims made pumpkin ale, too, because the poem continues:
If Barley be wanting to make into Malt
We must be contented and think it no Fault,
For we can make liquor to sweeten our Lips
Of Pumpkins and Parsnips and Walnut-Tree Chips.
Although English settlers like the Pilgrims loved pumpkins, the squash never caught on back in England.  The French had introduced the "pompion" to the English in the 16th century, and, in the 17th century, they even shared a pumpkin torte recipe with the British, but the Brits didn't love it.
Yet when the first cookbook was published in America, 175 years after the Mayflower landing, the pumpkin craze was still raging.  This cookbook included two recipes for "pumpkin pudding" that looked mysteriously like pumpkin pie, especially considering that one pumpkin pudding had a crust!  (Incidentally, it really can be helpful to think of pumpkin pie as a pudding or custard.  Marie Connell of MyHouse Cookies, who brings us her made-from-scratch pies, emphasizes that because pumpkin pie is a custard pie, you have to pre-bake the crust.)
So, if you're craving pumpkin ale, pumpkin chipotle soup, pumpkin lattes or pumpkin pie right now, you are joining a thousand-year-old club.  To capitalize on pumpkin season, here's a sweet and savory pumpkin dinner that makes the most of this North American vegetable.

Pumpkin Pasta with Sage and Sausage
Ingredients
1 pound penne pasta, cooked
1 pound chicken sausage, cooked
1 medium onion, chopped
4 cloves garlic, minced
1 to 2 tablespoons olive oil
1 bay leaf
2 tablespoons fresh sage, sliced
2 cups vegetable broth, divided
1 cup pumpkin puree
½ cup heavy whipping cream
¼ teaspoon cinnamon
½ teaspoon cardamom
½ teaspoon salt (plus more to taste)
Parmesan cheese, for topping
Instructions
Saute onion and garlic in hot olive oil until soft. Add 1 cup vegetable broth, bay leaf and sage and simmer until liquid has reduced by half.
Add pumpkin puree, remaining 1 cup vegetable broth, cinnamon and cardamom, and cook, stirring frequently, until bubbly. Remove bay leaf.
Add cream, salt and pepper and cook several minutes until thickened. Serve over cooked pasta and top with Parmesan cheese.
* * *
Article written by Rebecca Talbot and coordinated by VanDuzer Design & Marketing for Wolff's Apple House and may also be syndicated on Fig: West Chester and Rachel's Farm Table.