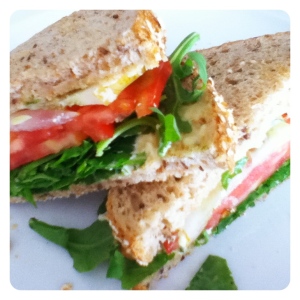 There's this sandwich my grandmother makes. It's easy to build and very delicious. It starts with perfectly ripe tomatoes.
When the summer heat first yields vine ripe tomatoes in earnest, you simply slice them, lightly salt them, and stuff them between two toasted pieces of white bread that have been slathered with mayonnaise.  This sandwich has a healing quality. And during that long summer of 1993, the summer before I entered high school, healing is what I needed most.
When she could still get around, my grandmother used to visit us every other summer at our home in Baltimore.  It was one such summer that she visited shortly before the school year.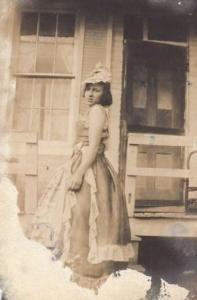 All of my friends were still away on vacation, the sun was sweltering, and my life was about to change dramatically. But somehow in the midst of all that turmoil, my grandmother brought peace to my adolescent mind. As she pushed dollops of mayonnaise across that toast, she told me of her younger days.
I remember the story in fragments mostly. She had wanted to be a dancer…an invitation to audition with The Rockettes…conservative parents…so the story goes.
Being a professional dancer wasn't in her cards. "But dancing," she said, "dancing can be enjoyed everywhere—even without an audience." The rest is silence…the crunch of toasted bread…silence.
Everyone in my family knows my Grandmother likes to dance. Not everyone believes that she was once invited to Radio City. But as we sat there eating together, we talked about growing older and the proud hopefulness of childhood. In the end, I didn't care whether her story was true or not. It seems as I get older, I care less and less about what is true, and more about what is good.
In celebration of her 90th birthday, I've given her sandwich a little sprucing. Here I've included whole grain bread, arugula, lemon cucumber, local PA tomatoes, and homemade mayonnaise.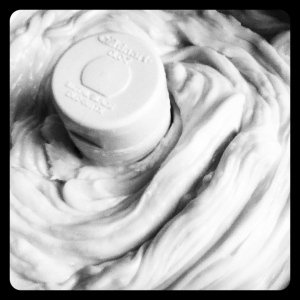 Print
Homemade Mayonnaise
Author:
Category:

Condiments
1

large egg yolk

1 ½ tsp

. fresh lemon juice

1 tsp

. white wine vinegar

¼ tsp

. Dijon mustard

½ tsp

. salt plus more to taste

¾ cup

canola oil
Instructions
Combine the egg yolk and mustard in medium bowl.
While slowly adding the oil, whisk until a tight emulsion is formed.
Once emulsion is established, begin slowly drizzling in the lemon juice and vinegar.
Continue adding oil until mayonnaise has acquired the preferred consistency.
Season with salt.
Cover and chill. This recipe makes about ¾ cup and will last 2-3 weeks in the refrigerator.